This post originally appeared on Or Whatever You Do! Visit me there for more recipes and tales from my giant family to yours.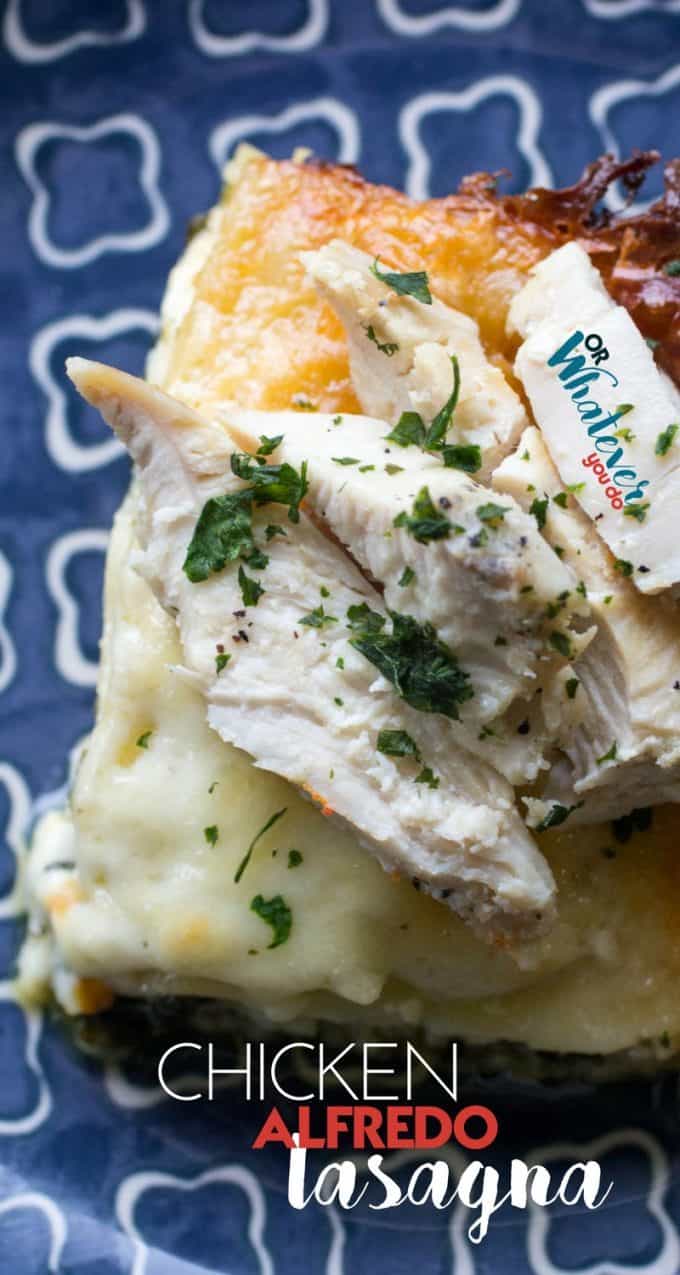 Chicken Alfredo Lasagna with Spinach
Chicken Alfredo Lasagna with Spinach is a great change-up to a traditional lasagna. Filled with cheese, a creamy alfredo, and topped with tender chicken breast strips.
This last week we celebrated TWO birthdays in this house. The youngest two Johnsons turned 2 and 3, respectively, and we had the whole family over for a dual party.
For our birthday parties, one pan of lasagna won't do. We need multiple pans in order to feed our crowd, and this time we decided to change it up a bit and make one pan of traditional lasagna with red sauce, and one pan with our alfredo sauce.
It was such a hit.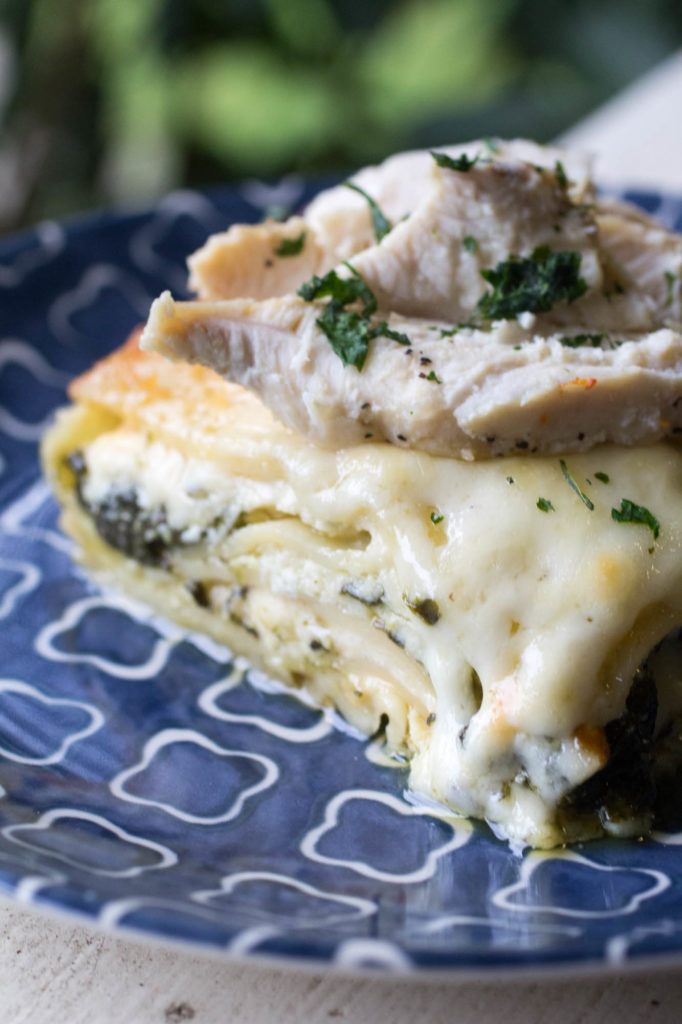 My favorite part of lasagna of any kind is the cheese mixture. I always do equal parts cottage cheese and ricotta, throw in an egg to help keep it together, and then lots of herbs, spices, and parmesan cheese.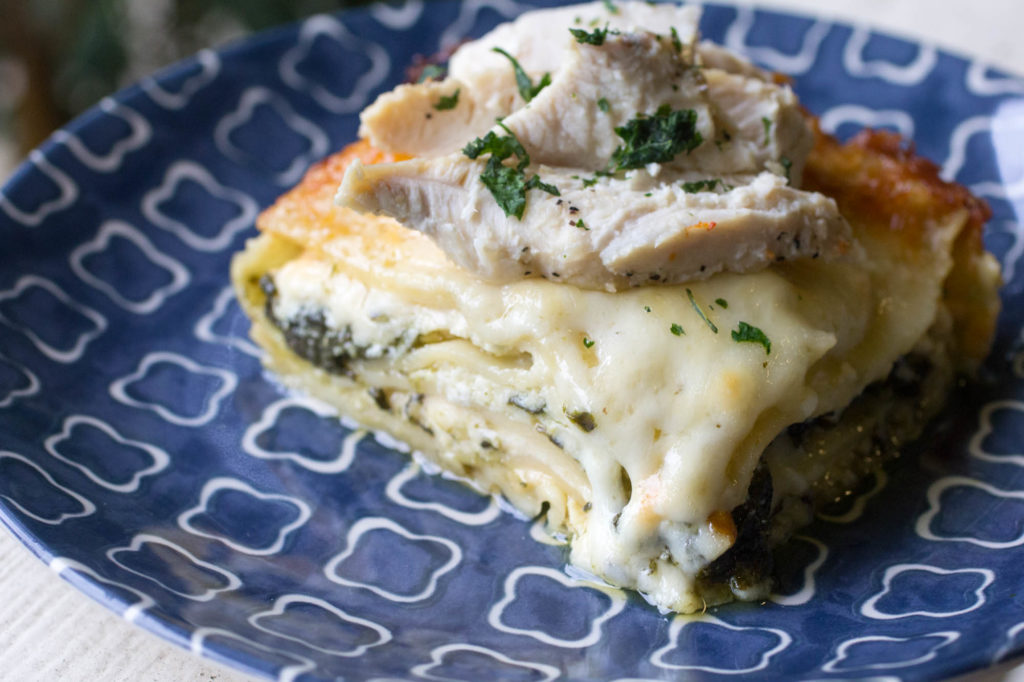 See what an assembly line I had going? I love working lasagnas like this. If you don't have an army to feed, I highly suggest STILL doing two pans. It really isn't more work than one pan, and you can freeze one, or bring one to a neighbor or friend that could use a meal. If a pan of this showed up on my doorstep unexpectedly? I might kiss whoever delivers it. Fair warning.
Because some nights, like tonight, for instance. When the day has been long, and I'm already exhausted before the dinnertime chaos hour has even started, having a pan of this to fall back on would be amazing. It was a DAY, you guys, like few others.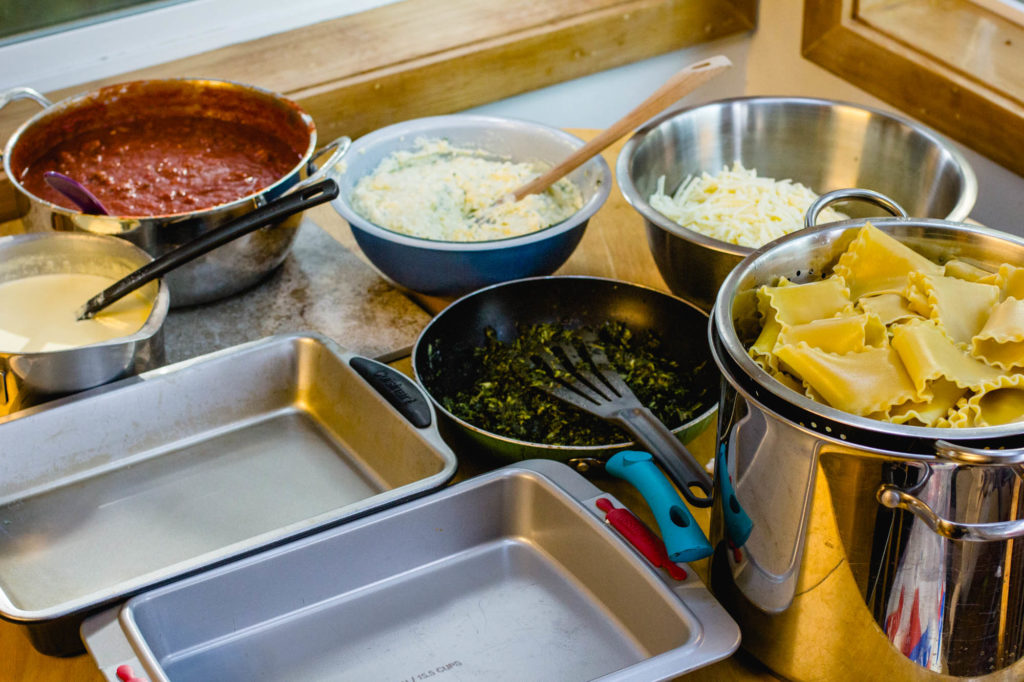 I'm always unsure of how to answer people when they ask me how we're doing. Because really? We're doing fine. The kids are all healthy and relatively happy (when I'm not making them do chores). We're hanging in there! But whoa. This is definitely a marathon and not a sprint, and I can't wait to get a little respite to relax.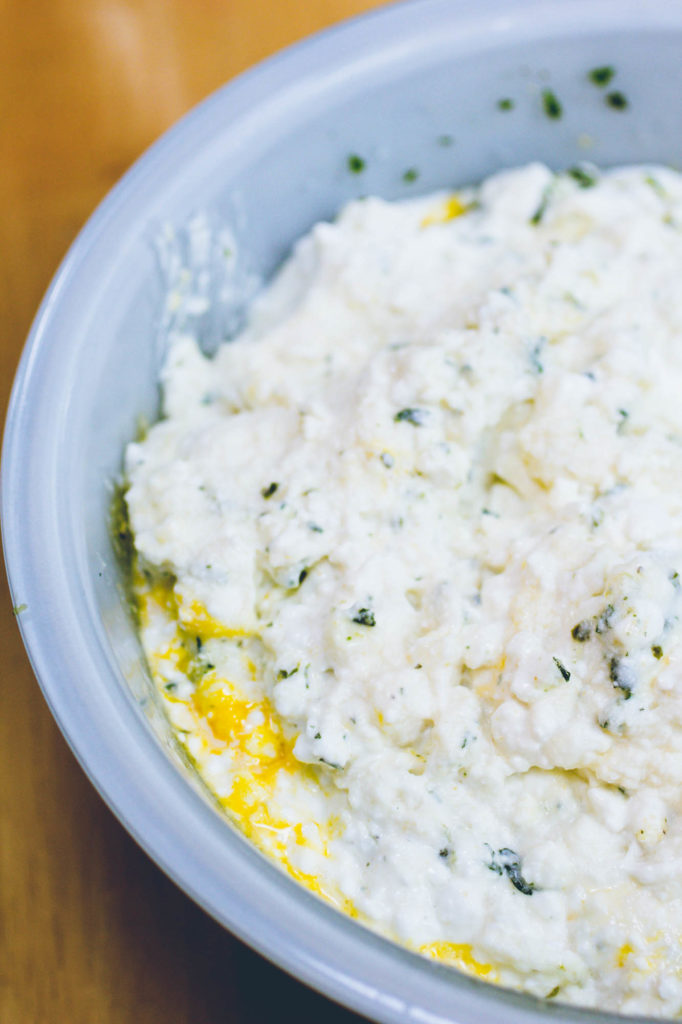 Thankfully it looks like we're going to get one of those in December when my husband and I get to travel, sans kids, to Florida for my brother's wedding.
To say I'm excited would be an understatement.
You see, we've never actually been away together.
Ever.
Not even for a honeymoon.
We celebrated our 13th anniversary this last summer, and we've never – not even for a night – been away overnight without them.
CRAZY.
That all just dawned on me. No wonder why we are tired.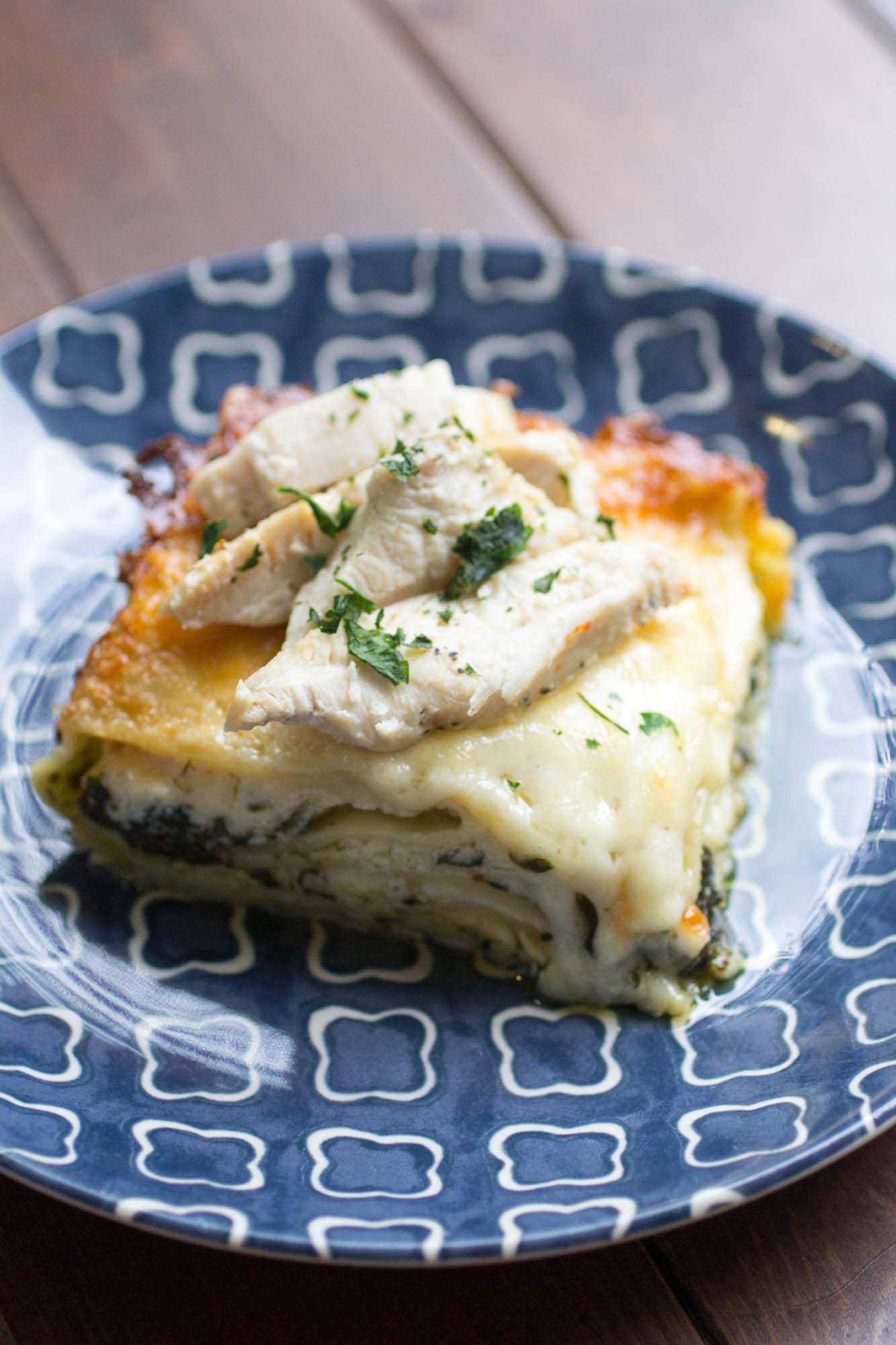 I travel a lot for work these days, so have seen more than my fair share of the inside of a hotel room. It's been a blessing, for sure, having a job that I love doing and allows me to travel. Those work trips are not only "work trips", for me. They are sanity savers. Tiny bits of time where I only have to worry about taking care of myself.
And I only have to worry about myself because I know my husband has the house and the family so well in hand.
That poor man needs a break too.
I think society and culture today puts some pretty hefty expectations on parents. To need a break is to be lacking, somehow. Lacking in love. Lacking in stamina.
---
Want more pasta goodness? I've got it!
Easy Shrimp Scampi Pasta
Meatball Stuffed Manicotti
Super Simple Herbed Marinara
Chicken and Zucchini Pasta Bake
BLT Bucatini Pasta Salad
Pepperoni Rotini Bake
---
Love is patient and love is kind, of love also needs time to recharge its batteries so you don't spend your days envisioning just 10 minutes of peace and quiet.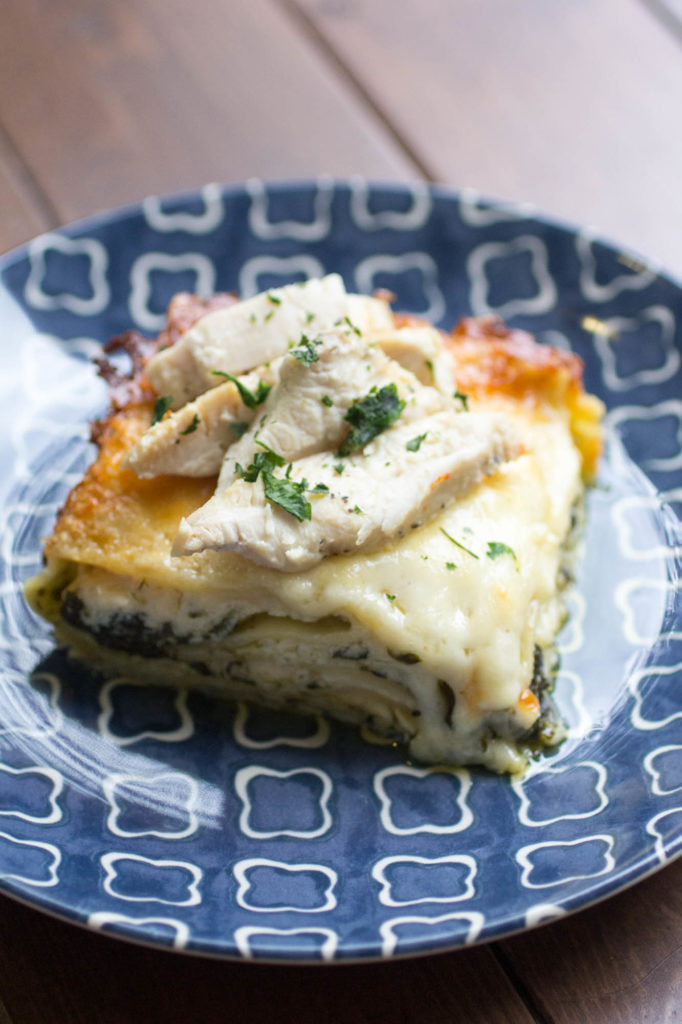 CHICKEN ALFREDO LASAGNA WITH SPINACH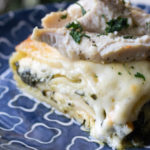 Chicken Alfredo Lasagna with Spinach is a great change-up to a traditional lasagna. Filled with cheese, a creamy alfredo, and topped with tender chicken breast strips.
1 box lasagna noodles parboiled
2 pounds mozzarella cheese shredded
Sauce
6 tablespoons butter salted
2 cloves fresh garlic thinly sliced
1 pint heavy cream
2-3 cups parmigiano reggiano
1/2 teaspoon salt taste final product and add additional as needed
Cheese Mixture
8 ounces small curd whole milk cottage cheese
8 ounces whole milk ricotta cheese
1 egg
1 teaspoon parsley
1/2 teaspoon oregano
1/2 teaspoon salt
1/4 teaspoon pepper
Spinach
16 ounces frozen spinach thawed and drained
3 tablespoons butter
1/2 cup heavy cream
1/4 teaspoon nutmeg
1/2 teaspoon salt
1/2 teaspoon fresh garlic
Chicken
4-5 inch chicken breasts sliced into 1/2 strips
salt pepper (garlic salt, onion powder)
2 – 3 tablespoons olive oil
Prepare the bottom of a 10×13 pan with cooking spray. Preheat oven to 325.
Melt butter over medium-low heat. Add garlic and cook for about 30 seconds, or until fragrant. Add heavy cream. Keep heat on medium-low, stirring frequently, until lightly bubbling.
Slowly add cheese while stirring. Turn heat down a bit and continue to cook until desired thickness is reached.
Boil your noodles until they are about 1/2 to 2/3 done, and then drain well and rinse in cold water.
To prepare the spinach layer, thaw and drain your frozen spinach well. I like to use a fine mesh strainer and really squeeze allllll the liquid out that I can. Once it is well-drained, place it into a medium saute pan with the butter, cream, nutmeg, salt, and garlic. Simmer over medium heat, stirring frequently, for 3-4 minutes. Remove from heat and set aside.
In a separate bowl, combine the cottage cheese, ricotta, parmesan, egg, and seasonings. Mix until well combined.
Layer the ingredients in the pan in this order: noodles, 1/2 of cottage cheese mixture, all of the spinach mixture, 1/3 of the mozzarella cheese, 1/3 of the sauce, noodles, other half of cottage cheese mixture, 1/3 of mozzarella cheese, 1/3 of the sauce mixture, noodles, the rest of the sauce, the rest of the mozzarella cheese.
Bake lasagna, covered, for 30-40 minutes. Remove the cover during the last 15 minutes of cooking to allow for a slight browning of the top layer.
Remove from oven and let sit for 15 minutes before cutting. While the lasagna is resting, liberally season the chicken with the salt, pepper, garlic salt, and onion powder. Place the olive oil in a large skillet, and heat over medium- low heat.
Cook slowly over medium-low heat until no pink remains.
Serve chicken on top of the individual pieces of lasagna.