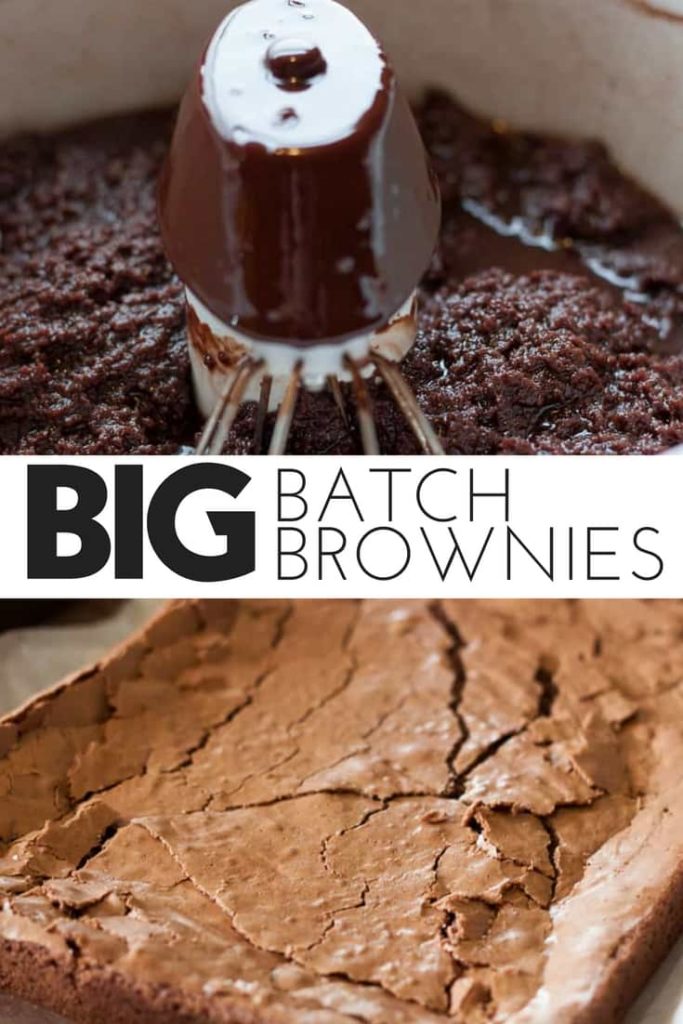 This post first appeared on Or Whatever You Do as Big Batch Brownies, and has been syndicated with permission.
Big Batch Brownies
For brownies, I usually just buy myself a box of the Ghirardelli Triple Chocolate and call it good. Those things are hard to beat.
I think I may have found a scratch recipe that comes awfully close though. This recipe is based off the recipe found over at Lemon Sugar's wonderful site. Have I sung her praises enough yet? What an amazing blog. Amazing photos. Great recipes. I'm going to include the giant version of this recipe which makes about 3-6 DOZEN, depending on the size that you cut them.
That is THREE 9×13 pans of chocolatey, chewy, cakey AND fudgy brownies.
Enough for a classroom, the teacher's lounge, and a pan for home. Or a large bake sale. Or your church's treat table on Sunday, plus some for the pastor to take home. You get the idea.
If you want the scaled down version, just divide by 3, or head over to Lemon Sugar to get the single batch quantities. I used different quantities of sugar, unsweetened, and semi-sweet chocolate than she did though, so if you want them JUST like the photos below, make a giant batch, do the math, or use one of the free online recipe reduction tools.
Fair warning, to make the big batch you need a LARGE mixing bowl. This taxed my Bosch to its very limits. It also stretched the limit of my largest mixing bowl. You definitely do not NEED a mixer for this recipe, so feel free to mix by hand if you need a good workout.
I just love the shell that forms on the top of these. They were amazing as the base for brownie sundays at the Valentine's Day party, and just as good plain too. No frosting needed!
Big Batch Brownies
Brownies for a crowd!
3 3/4 cups unsalted butter
4 ounces unsweetened chocolate
32 ounces semi-sweet chocolate
7 cups sugar
1/4 cup vanilla extract
18 large eggs
4 cups flour (all-purpose)
1 tablespoon salt
1 tablespoon baking powder
Preheat oven to 375.

Melt chocolate and butter in a double boiler, stirring frequently. Remove from heat when melted. Combine the sugar and vanilla in your mixer (or by hand), and then slowly pour in chocolate/butter and mix until well combined. Add eggs, one at a time, mixing well after each addition. Batter should be shiny and smooth.

Combine flour, salt, and baking powder in a separate bowl. Add to the wet ingredients and mix just until combined. Don't over mix!

Prep 3 – 9×13 pans by lining with parchment paper that over hangs the long sides, and then spraying well with cooking spray. Pour batter into pans and spread out evenly.

Bake for 35-40 minutes, or until a toothpick comes out with wet crumbs. Start checking them at 30 minutes as ovens differ so greatly. When done, remove from oven and let cool in the pan for 10 minutes. Remove from the pan using the parchment, and then let cool an additional 5 minutes before cutting. Serve immediately.
You need more Big Batches? I've got you covered!